Pictures of Coins of the UK
by Tony Clayton
---
Fifteen Shillings
---
The Half Guinea <<-- : -->> Guineas and Sovereigns (1489-1659)
History of Fifteen Shillings
Values of Fifteen Shillings
---
Ryal or Ship-Ryal
---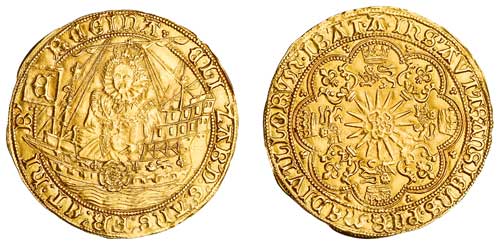 Fifth Issue Ryal, mintmark A
S.2529
Courtesy of Spink
---
Spur-Ryal
---
Second coinage Spur Ryal (1605-6)
Mintmark rose. S.2614
Reverse: A DNO FACTVM EST ISTVD ET EST MIRABILE
(This is the Lord's Doing and It is Marvellous [in our Eyes])
Courtesy of Spink
This coin was raised to 16s6d when the Third Coinage version was issued.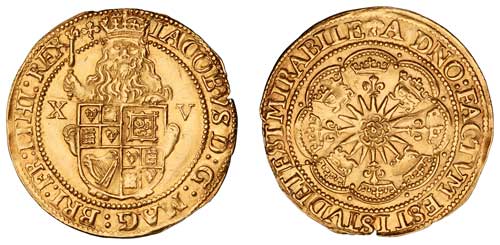 Third coinage Spur Ryal (1624)
Mintmark trefoil. S.2634
Courtesy of Spink
---
Acknowledgements
I readily acknowledge the kind permission given by Spink of London and Jean ELSEN & ses Fils of Brussels to use images from their website auction catalogues.
---
Links
The Half Guinea <<-- : -->> Guineas and Sovereigns (1489-1659)
Main History Index
History of Fifteen Shilling Coins
UK Coin Values Index
Values of Fifteen Shilling Coins
---
Pictures of Coins of the UK - Fifteen Shillings
Copyright reserved by the author, Tony Clayton
v6 31st March 2015