Pictures of Coins of the UK
by Tony Clayton
---
Half Crowns, or Two Shilling and Sixpence
---
The Florin (2s) <<-- : -->> 3s, 40d and 45d
History of the Half Crown
Values of Half Crowns
---
Elizabeth I : James I : Charles I : Commonwealth : Charles II : James II : William and Mary : William III : Queen Anne : George I : George II : George III : George IV : William IV : Victoria : Edward VII : George V : George VI : Elizabeth II
---
Please note that as the images have come from a wide range of sources, they are not to scale relative to each other.
---
The Half Crown
---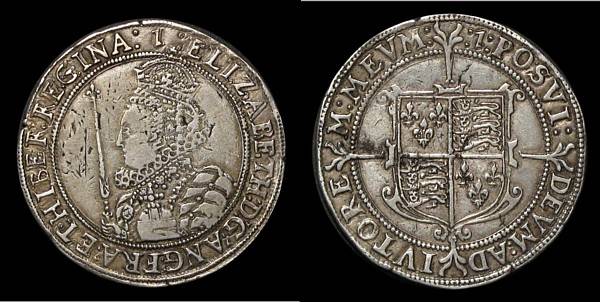 1601 Sixth Issue Halfcrown, mintmark 1.
S.2583
Courtesy of AMR Coins
---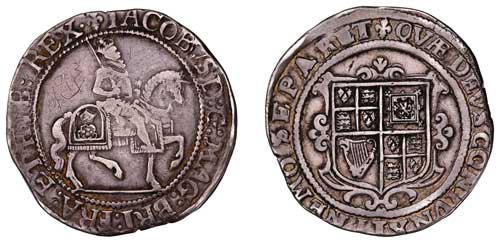 Halfcrown, third coinage, mintmark lis (1623-4) S.2666
Courtesy of Spink
---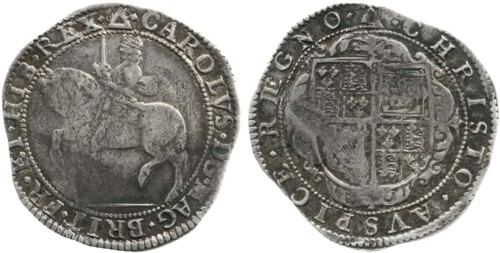 Half crown, Briot's hammered issue
Mintmark: triangle over anchor, 1638-9
Courtesy of Spink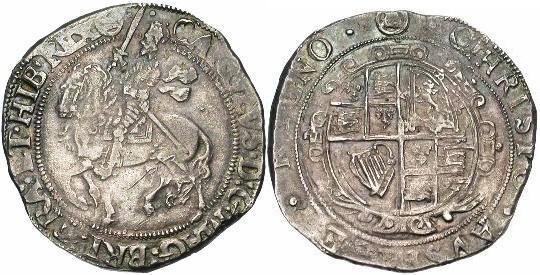 Half crown, Tower Mint under the King
Mintmark: triangle in circle, 1641-3
Courtesy of Jean ELSEN & ses Fils.
---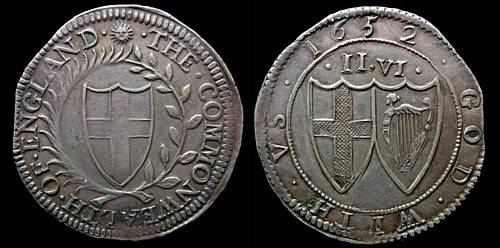 1652 Half Crown,
S.3215
Courtesy of CromwellCoins.com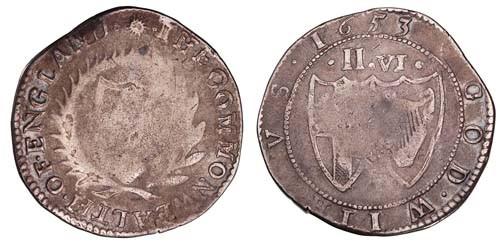 A rather worn 1653 Half Crown,
Courtesy of Spink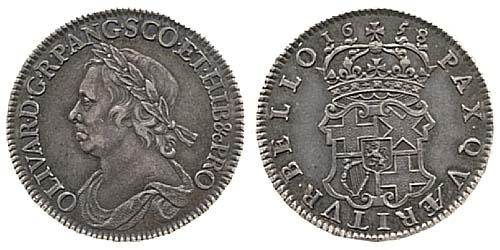 1658 Half Crown, Cromwell type
Courtesy of Spink
---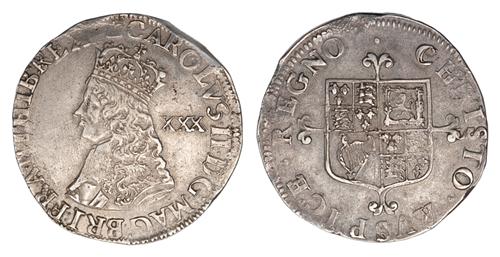 Hammered Halfcrown, Second Issue, 1660-1662
Courtesy of Spink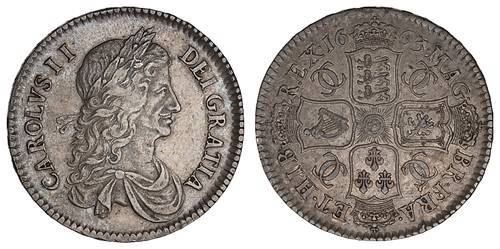 1663 Halfcrown, first bust
Courtesy of Spink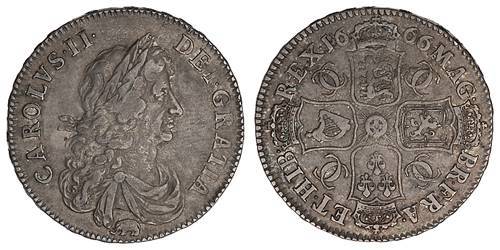 1666/4 Halfcrown, third bust, elephant below
Courtesy of Spink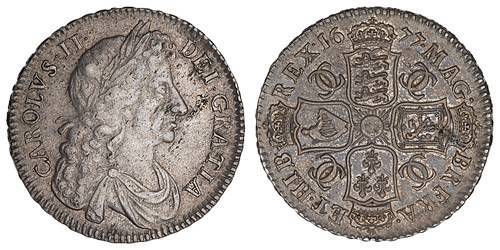 1677 Halfcrown, fourth bust
Courtesy of Spink
---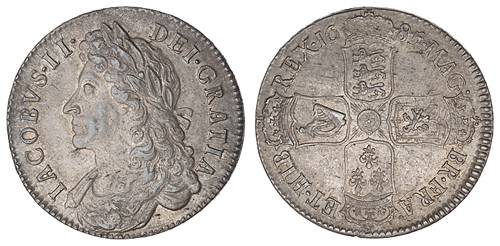 1685 half crown
First bust
Courtesy of Spink
---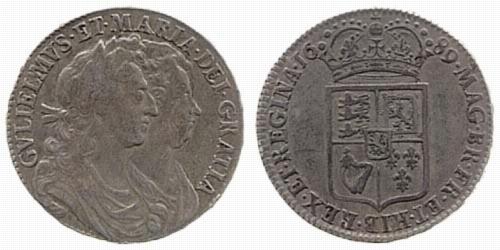 1689 Half Crown, first busts, first reverse
Second L of GVLIELMVS over M
Courtesy of Spink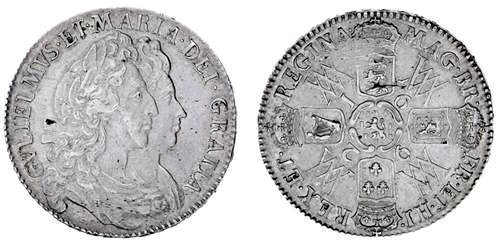 1692 Half Crown, second busts, third reverse
Courtesy of Spink
---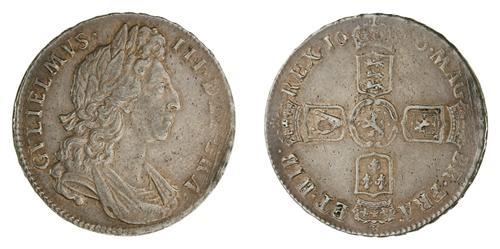 1696 Half Crown
First reverse (narrow shields, ordinary harp)
Courtesy of Spink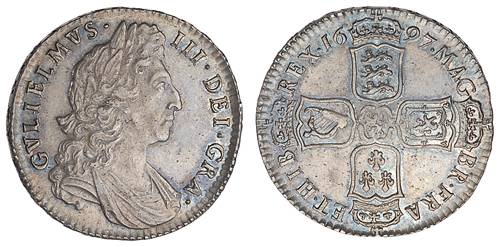 1697 Half Crown
Third reverse (wide shields, ordinary harp)
Courtesy of Spink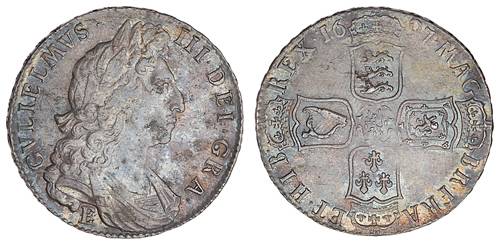 1697 Exeter Half Crown
Third reverse
Courtesy of Spink
1700 Half Crown
Third reverse
Courtesy of AMR Coins
---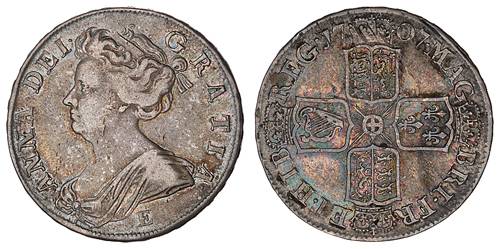 1707E post-union half crown
Minted in Edinburgh
Courtesy of Spink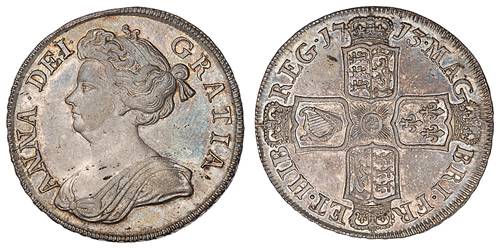 1713 half crown
Courtesy of Spink
---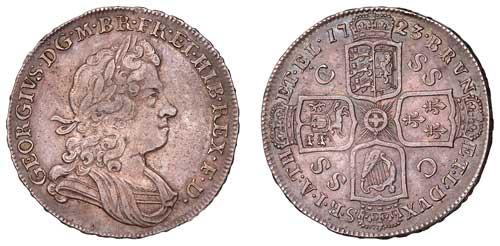 1723 SSC halfcrown
Courtesy of Spink
---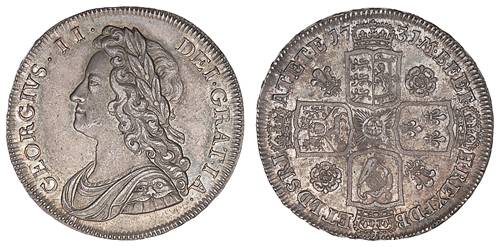 1731 roses & plumes Half Crown, young bust
Courtesy of Spink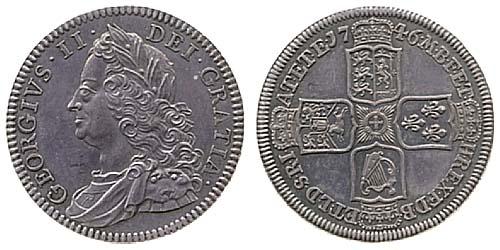 1746 plain proof Half Crown, old bust
Courtesy of Spink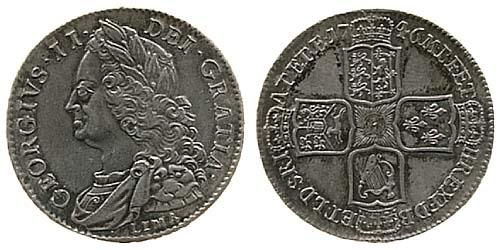 1746 LIMA Half Crown, old bust
Courtesy of Spink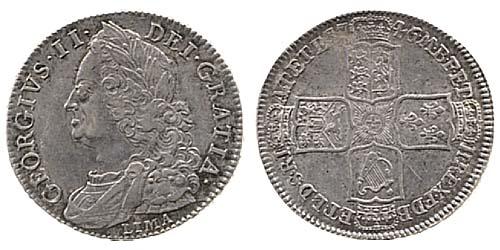 1746 over 5 LIMA Half Crown, old bust
Courtesy of Spink
---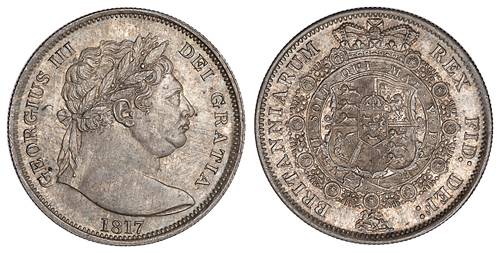 1817 Half Crown, First Type
Courtesy of Spink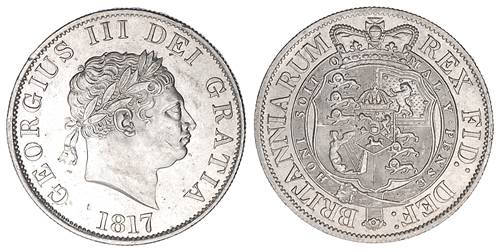 1817 Half Crown, Second Type
Courtesy of Spink
---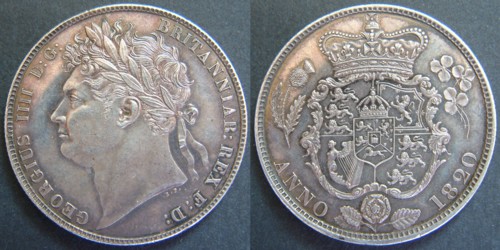 1820 Proof Half Crown, 1st head, Type 1a reverse, milled edge
Courtesy of Martin Platt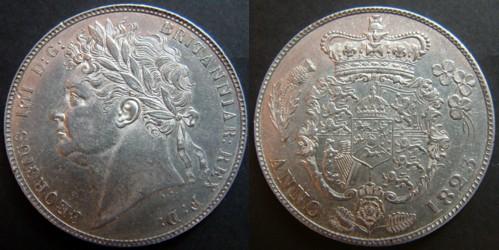 1823 Half Crown, 1st head, Type 1b reverse
Note minor design changes
Courtesy of Martin Platt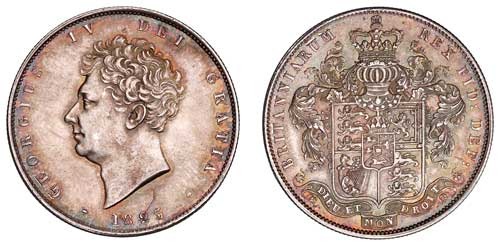 1825 Half Crown, 2nd head, Type 3 reverse
Courtesy of Spink
---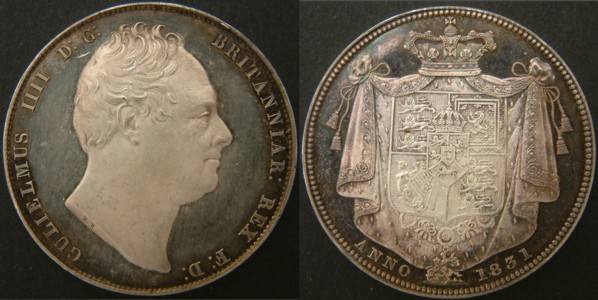 1831 Proof Half Crown, block WW
Note that the King's hair and obverse border teeth differ from that on the circulation issue obverse, as seen below.
Courtesy of Martin Platt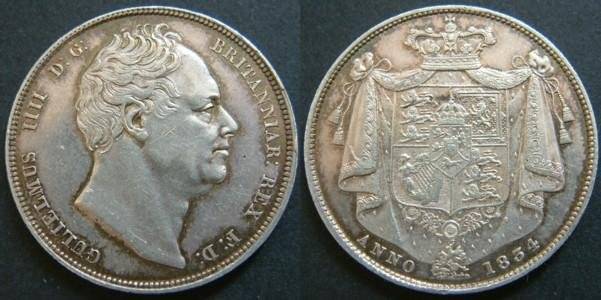 1834 Half Crown, block WW
Courtesy of Martin Platt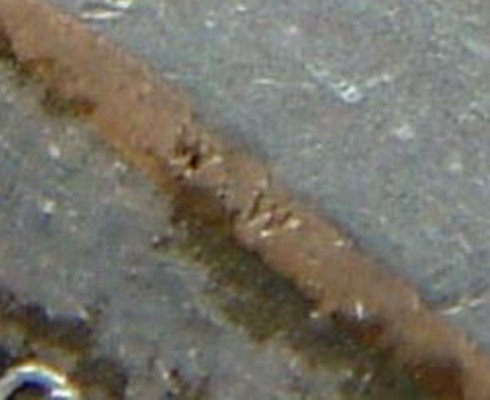 Detail of the block WW
It is more common to find a script WW
Courtesy of Martin Platt
---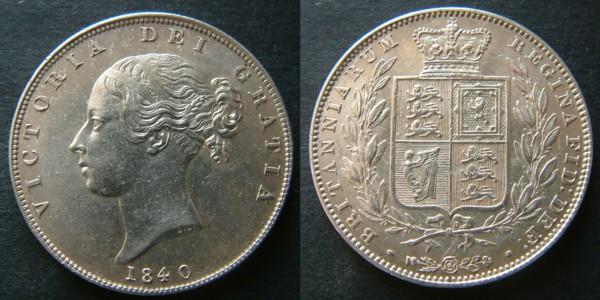 1840 Half Crown, Type 4 high relief portrait, WW on truncation
Early reverse (thin rim, U separated from wreath)
Courtesy of Martin Platt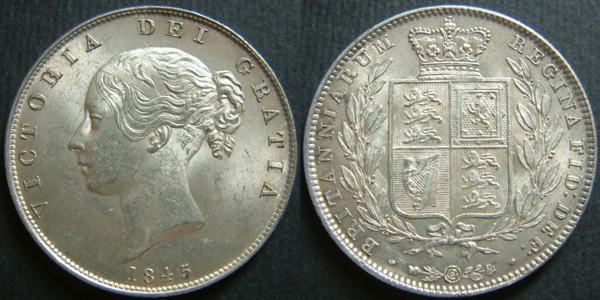 1845 Half Crown, Type 5 high relief portrait
Early reverse (thin rim, U separated from wreath)
Condition: Uncirculated
Courtesy of Martin Platt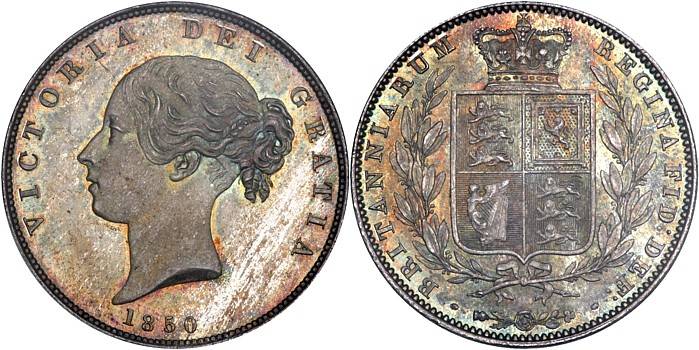 1850 Half Crown
Condition: Uncirculated
Image donated anonymously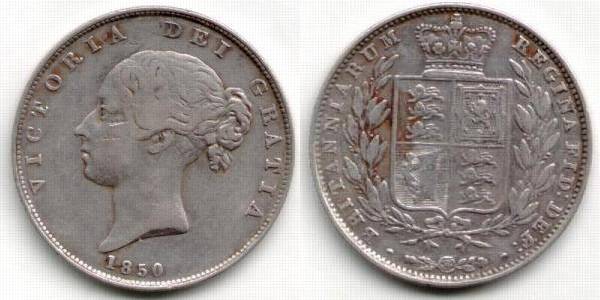 1850 Half Crown
Condition: Fine (note wear on head)
Author's Collection (sadly not quite as good as the other!)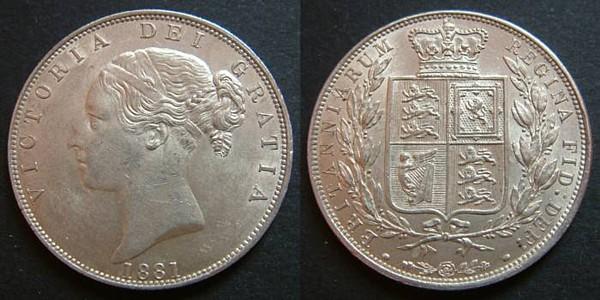 1881 Half Crown, Type 6 low relief portrait
Later reverse (thicker rim, U touching wreath)
Courtesy of Martin Platt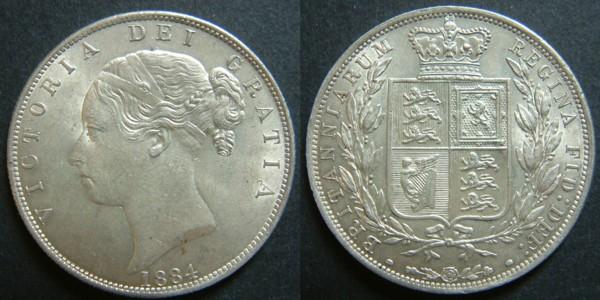 1884 Half Crown
Courtesy of Martin Platt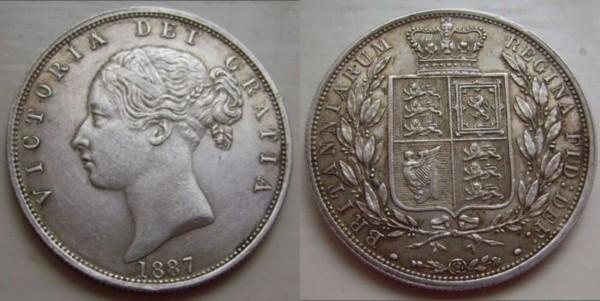 1887 Young Head Half Crown
Courtesy of John Hodd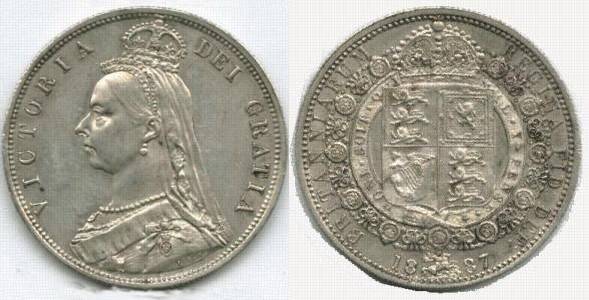 1887 Half Crown
Donated anonymously
1887 proof Half Crown, reverse
Donated anonymously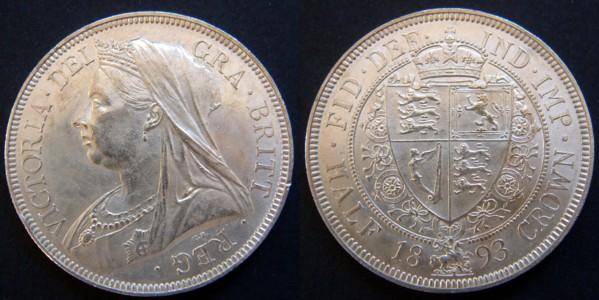 1893 Half Crown
Courtesy of Martin Platt
---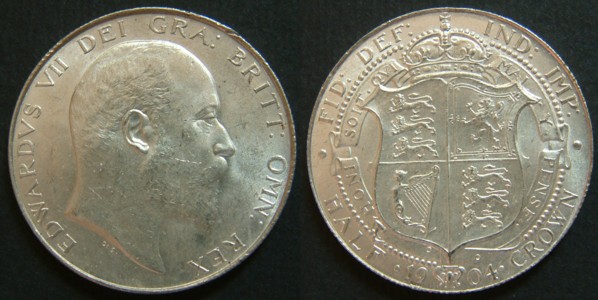 1904 Half Crown
Courtesy of Martin Platt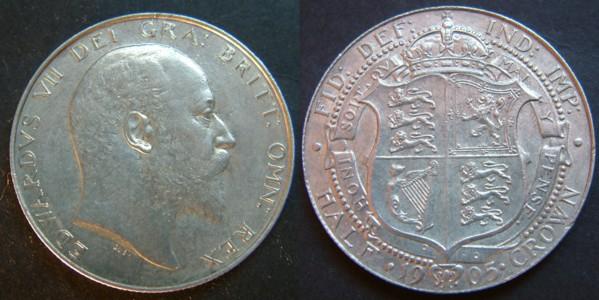 1905 Half Crown, the key date of the Edward VII series
Courtesy of Martin Platt
---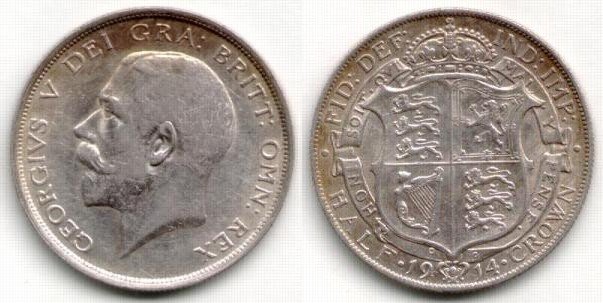 1914 Half Crown
Author's Collection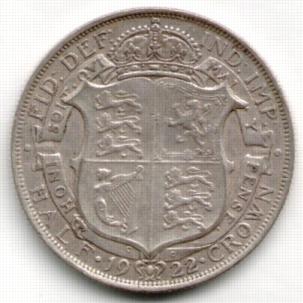 1922 Half Crown, reverse
Author's Collection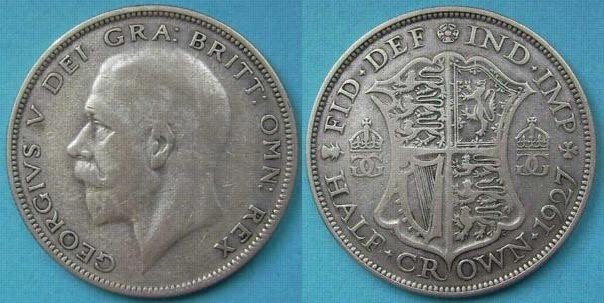 A most unusual circulated proof Type 4 1927 Half Crown
Courtesy of John Hodd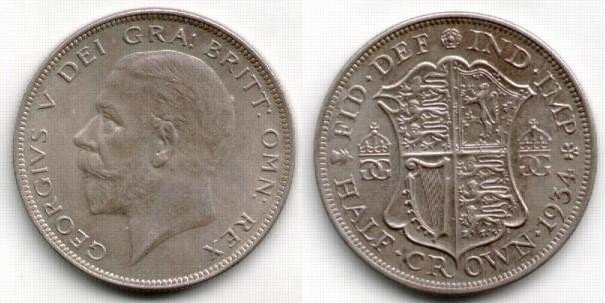 1934 Half Crown
Author's Collection
---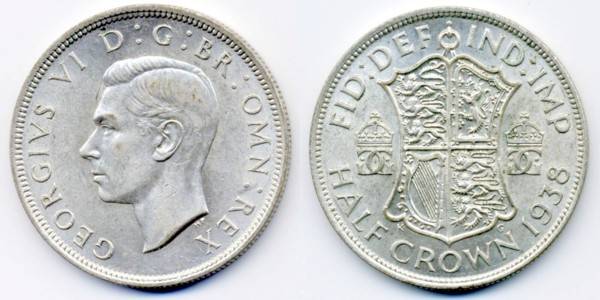 1938 Half Crown
Author's Collection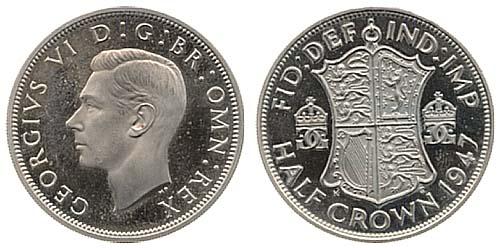 1947 proof Half Crown
Courtesy of Spink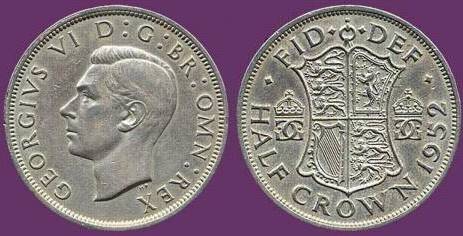 The unique circulation issue 1952 Half Crown
By kind permission of the late Colin Cooke
---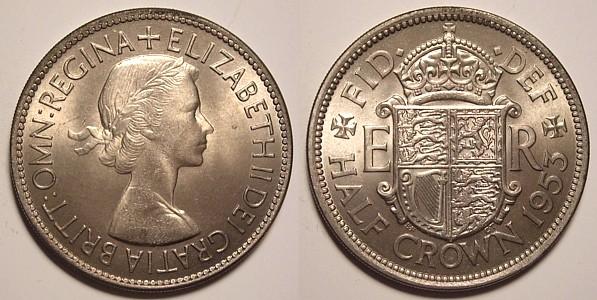 1953 Half Crown, First obverse
Courtesy of John Quinn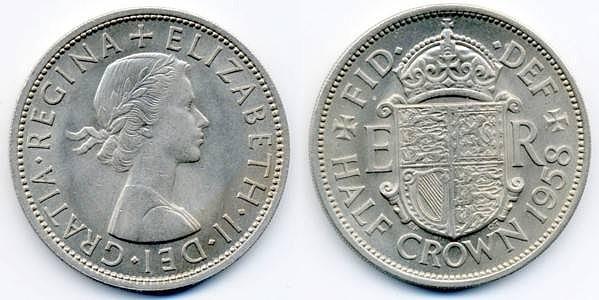 1958 Half Crown
Author's Collection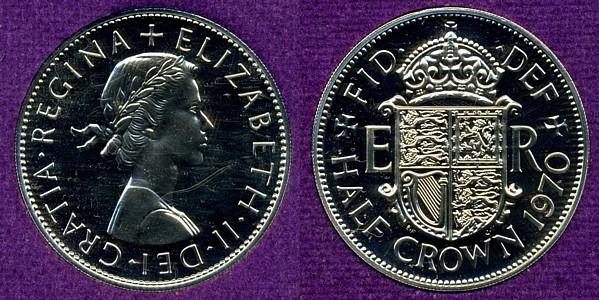 1970 Proof Half Crown
Author's Collection
---
Links
The Florin (2s) <<-- : -->> 3s, 40d and 45d
Main History Index
History of the Half Crown
UK Coin Values Index
Values of Half Crowns
---
Pictures of Coins of the UK - The Half Crown
Copyright reserved by the author, Tony Clayton
v39 29th March 2016